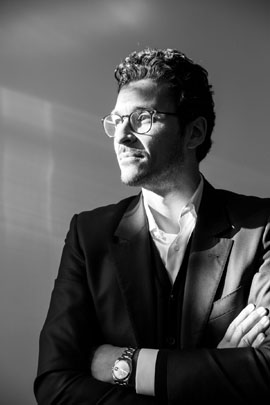 Hervé CAMPANA has a DEA in Economic and Business Law and a DESS in Multimedia and Computer Law, and obtained his Lawyers' Aptitude Certificate (CAPA) in France at the University of Paris II before passing the Bar Examination of the Principality of Monaco.
The varied experience he has gained from working at law firms in Paris, Nice and Monaco has enabled him to broaden his knowledge and acquire skills in fields as diverse as business law, criminal law, technology law and civil law in general.
The office is well aware of the benefits of an interdisciplinary approach to its clients' files, and is composed of a versatile team that can advise on all kinds of transactions, in particular complex matters requiring a very broad range of skills.
An overview of our skills:
Contract Law
Contract Negotiations
The office assists its clients throughout discussions, and ensures that their interests are protected.
Contract Drafting
We draft all types of contract (including service agreements, individual and commercial leases, loan agreements, employment agreements, general and/or special terms and conditions of sale and settlement agreements).
Disputes
Contracts may sometimes lead to disputes, especially with regard to their validity, performance or non-performance, interpretation or breach.
The office acts in this type of dispute on a daily basis.
Criminal Law
Business-related criminal law
Money laundering, abuse of trust, fraud, bankruptcy, VAT fraud, directors' criminal liability, etc.
General criminal law
Crimes and offences against persons (assault and battery, manslaughter, invasion of privacy and family life, false accusation, etc.) or property (theft, handling, etc.), traffic offences, etc.
Victims of crime
Filing complaints and joining clients as civil parties.
Investigation proceedings
We assist and represent our clients before investigating judges, whether they be the accused or civil parties (assistance at hearings, applications for release, applications for hearings, questioning, confrontation, site visits, appeals against orders by investigating judges, etc.).
New Technology Law
New technologies are now a part of everybody's daily life and affect numerous branches of the law: business law, criminal law, privacy law, contract law, the law of evidence and intellectual property law.
It is therefore essential to have the appropriate training in order to be able to properly understand this «new law».
With a DESS in Multimedia and Computer Law (Paris II), Hervé CAMPANA has the necessary skills to respond to all your problems associated with new technologies, including:
Protection of personal data – formalities and declarations.
Contract formalities, the law of evidence.
E-commerce.
Intellectual property law (copyright, trademarks, designs and models).
Employment Law
Negotiating, drafting and amending employment agreements.
Organizing employee termination.
Negotiations: employee termination, amicable termination, settlements.
Employment law disputes: assistance and representation of employers and employees before the Conciliation Board and the Labour Court in the event of disputes relating to dismissal, resignation, failure to perform, or poor performance of, employment agreements, etc.
Banking Law
The office advises and represents clients in the banking and financial sectors, including:
Contractual relationships between institutions and their customers.
Banking and financial disputes.
Family Law - Succession
Divorce

No fault divorce is possible in cases where the spouses agree on termination of their marriage and its consequences. The office encourages this type of divorce whenever it is a viable alternative because it is faster, less costly and above all less traumatic for family relationships.
A contested divorce must be contemplated wherever there is a dispute between the spouses. In these cases, the office is fully committed to defending your interests.
Whatever type of divorce is involved, our office dedicates special attention to issues regarding your children (usual residence, visiting and custody rights and maintenance payments), your property interests (compensatory allowance, liquidation of the matrimonial property regime) and your accommodation.
The office assists you with divorces that have an international dimension, and provides its expertise in private international law, especially when problems arise that are associated with conflicts of laws and/or jurisdictional issues.

Family disputes


Problems involving parental authority, residence, maintenance payments, visiting and custody rights of parents and grandparents, etc.

Protection of individuals


Protection of certain types of adult (guardianship, tutelage), protection of minors.

Succession

Disputes relating to succession.
Real property and Construction Law
Drafting, analyzing and amending contracts relating to the construction of real property (architectural agreements, project management contracts, owners' representative contracts, sub-contractors' contracts, etc.).
Drafting of commercial, office and individual leases.
Pre-litigation advice.
Disputes: contractual liability, tortious liability, summary proceedings, forensic examinations, guarantee calls.
Commercial Law
Drafting, analyzing and amending contracts (commercial and office leases, transfers of leases or businesses, service agreements, etc.).
Assistance and representation in insolvency procedures.
Submissions of claims and supervision of proceedings before the Courts.
Debt Collection and Enforcement
Preparation of amicable or litigation strategies for collection.
Provisional measures.
Seizure of personal and real property.
Enforcement.